Interns 2024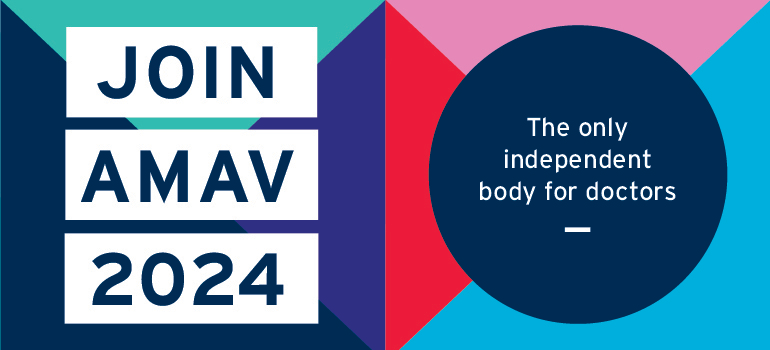 Congratulations on completing your medical degree and commencing your role as a doctor! It is a fantastic achievement of which you must be very proud.
AMA Victoria is here to support you every step of the way as you complete your intern year and beyond. We will be there with advice, assistance, targeted coaching and wellbeing support.

Join before 30 November 2023 to receive your first 3 months free

If you're not yet a financial member of AMA Victoria, we welcome your transition - join today.
We look forward to being here for you now and in the future.

Your AMA Victoria membership
If you are already a current student member with AMAV, transition to your new membership below.

You will need your username and password to complete this upgrade.

Join before 30 November 2023 to receive your first 3 months free

If you are a non-member, join today.

Join before 30 November 2023 to receive your first 3 months free

Workplace relations and career management tips

To those of you who are already AMA Victoria members, we are here to serve you. You can read our workplace relations and career management tips and insights here (member login required). Topics include:

Career support for interns
Navigating your career in medicine can be daunting for interns and we are here to assist you. Our professional development and careers team at AMA Victoria has eight years of experience supporting interns - there is not much we haven't heard or discussed over the years and we know this can be a big step up for some of you as you update your resume, consider career options and prepare for applications and interviews.
Below is a small selection of our services we offer that particularly relevant to interns:
Member only benefit (no fees)
Career coaching and skills development (fees payable)
Interview skills:
Leadership coaching:

How we assist you further
We proudly connect and support our members, providing a unified voice to advocate for Victorian doctors and the health of all Victorians. AMA Victoria members have the unique opportunity to participate in advocacy to government and drive positive change across the state's health system. You can read our latest advocacy work

here

.

As a member of AMA Victoria, you are supported by a team of workplace relations advisors, who can help you at any time to understand your employment contract, ensure you are receiving your correct entitlements, know your workplace rights and provide representation when required.

Our wellbeing programs offer support to interns, helping you maintain your health and wellbeing as you embark upon your new career. 

Our career solutions are medically specific and are delivered by highly experienced and internationally accredited coaches with extensive knowledge of the health sector and the career journey of a doctor. View our range of services

here

.

AMA Victoria offers interns accurate, curated and timely information. Our delivery includes:

The Medical Journal of Australia:

Australia's leading peer reviewed general medical journal (available for Ordinary memberships (joint AMAV + Federal) only).

Vicdoc:

Our award-winning magazine contains news affecting the medical profession.

The Check-Up:

Our weekly newsletter keeps you updated on current issues.

Stethoscope:

Our blog helps members stay up to date on medical news and policy, expert opinions and profiles on people of interest in medicine.
Get membership discounts and exclusive rewards on a broad range of lifestyle and business products and services. View our list of preffered partners here.